Medicare for Veterans and VA Benefits: A Complete Guide
When veterans become eligible, it's recommended for them to apply for both Veteran Affairs (VA) health care benefits and Medicare. Although these programs do not provide dual-coverage, they complement each other by offering benefits that are not covered by the other. Medicare provides certain benefits that are not available in VA health care, and vice versa.
Deciding between VA benefits and Medicare is not a mutually exclusive decision; you can choose to have both. Moreover, the Veterans Administration (VA) encourages qualified veterans to enroll in Medicare. By selecting a Medicare Advantage plan, you may receive additional benefits such as dental, vision, and hearing care, and even prescription drug coverage, all at a low monthly premium or no premium in certain areas.
How does Medicare work with VA health care coverage?​
If you meet the criteria for veterans' healthcare benefits and decide to enroll in Medicare, you will have the option to receive treatment under either program. However, it is necessary to determine which benefits program you prefer to use prior to seeking medical attention.
VA health benefits and Medicare are distinct systems. VA health benefits cover services provided by VA hospitals and other locations within its network, whereas Medicare does not cover those services.
VA health benefits usually do not extend to hospitals, physicians, or other healthcare providers that are part of the Medicare system, and they do not cover Medicare deductibles, copayments, or coinsurance. However, different rules apply for coordinating Medicare and Tricare for Life coverage for military retirees.
The VA may occasionally cover services provided by some non-VA providers, but only with prior approval. If the VA approves only some of the services you require at a non-VA facility, Medicare may assist with the remaining costs.
Coverage varies depending on the priority group to which you are assigned when you apply for VA health care, which determines your coverage and out-of-pocket expenses within the VA system. These ratings are designed to ensure that veterans who require urgent care are prioritized accordingly.
Medicare and VA Coverage Compliment One Another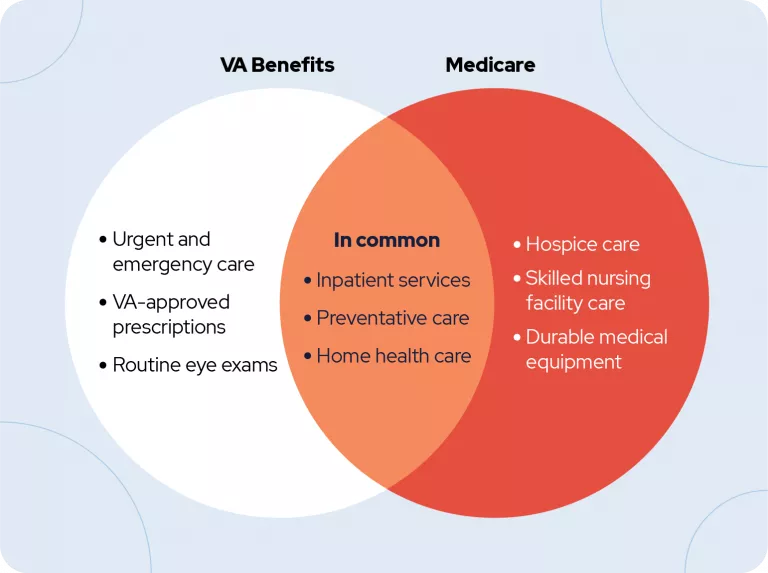 Medicare coverage for Parts A and B includes:
Inpatient care
Outpatient health care services
Home health care
Medically necessary services
Preventative services
Inpatient hospital services
Preventive care
Home health care
Emergency care services
Mental health services
Where Do I Access Medicare and VA Benefits?
VA benefits cover services at VA-authorized or non-VA facilities with pre-authorization, whereas Medicare helps cover services at non-VA facilities.
You can access VA care at over 1,200 care locations across the United States, including:
VA medical centers
VA community-based outpatient clinics
Vet centers
VA community living centers or other assisted living facilities
VA Health Care Eligibility
According to the Department of Veterans Affairs, "You may be eligible for VA health care benefits if you served in the active military, naval, or air service and didn't receive a dishonorable discharge."
Those who enrolled in uniform services after September 7, 1980, or started active duty after October 16, 1981, must have served for two years or completed their active-duty period unless they meet certain exceptions, such as:
Discharge due to an active duty-related disability
Early discharge
Serving before September 7, 1980
If you were or still are in the military reserves or National Guard, you can qualify for VA benefits if you completed your active-duty period as required by a federal order.
Eligible veterans can apply for VA benefits in one of five ways.
Fill out an online application on your VA.gov account
Call 877-222-8387 Monday to Friday from 8 a.m. to 8 p.m. Eastern Time
Fill out and mailing the application form
Apply in person at a local VA medical center or clinic
Enlist an accredited representative to help apply for VA benefits
Factors that determine your priority group include:
Your service history
Your disability rating
Your income
Your eligibility for Medicaid
Whether you receive additional benefits
Our team is made up of compassionate, friendly individuals who understand the unique needs of older adults. We take the time to listen to your concerns and provide personalized solutions that work for you. We provide additional and detailed information on Medicare Health Plans and a no-cost plan comparison to determine if you qualify for additional benefits.