Dental care is an important aspect of overall health, but it can also be expensive. Medicare, the federal health insurance program for those aged 65 and over, does not typically cover routine dental care or procedures. However, there are certain circumstances under which Medicare may cover some dental services, such as those that are necessary for the diagnosis or treatment of a medical condition.
When you retire, you may leave an employer-offered dental plan right when you need it most
Dental care is an important part of your overall health.
Untreated cavities and gum disease can lead to:
Chronic pain
Infections
Loss of teeth
Scientists have found links between periodontal disease and certain conditions, including:
Heart disease
Diabetes
Dementia
Medicare Doesn't Cover Most Dental Services, Including:
Routine checkups
Cleanings Fillings
Tooth extractions
Dentures Caps
Bridges
Dental plates
Dental coverage likely wouldn't cover all of this, but…there are ways you can reduce dental costs
Some Medicare Advantage (Part C) plans offer dental benefits. Stand-alone dental insurance plans can help. Be aware that adult dental plans often have:
Waiting periods of a year or more before you can access benefits
Caps on coverage, leaving you responsible for expenses once you reach a certain amount
Dental coverage can be affordable Make sure you:
Shop around — compare plans from more than one company.
Work with a knowledgeable insurance agent, who can help you compare plan benefits and prices.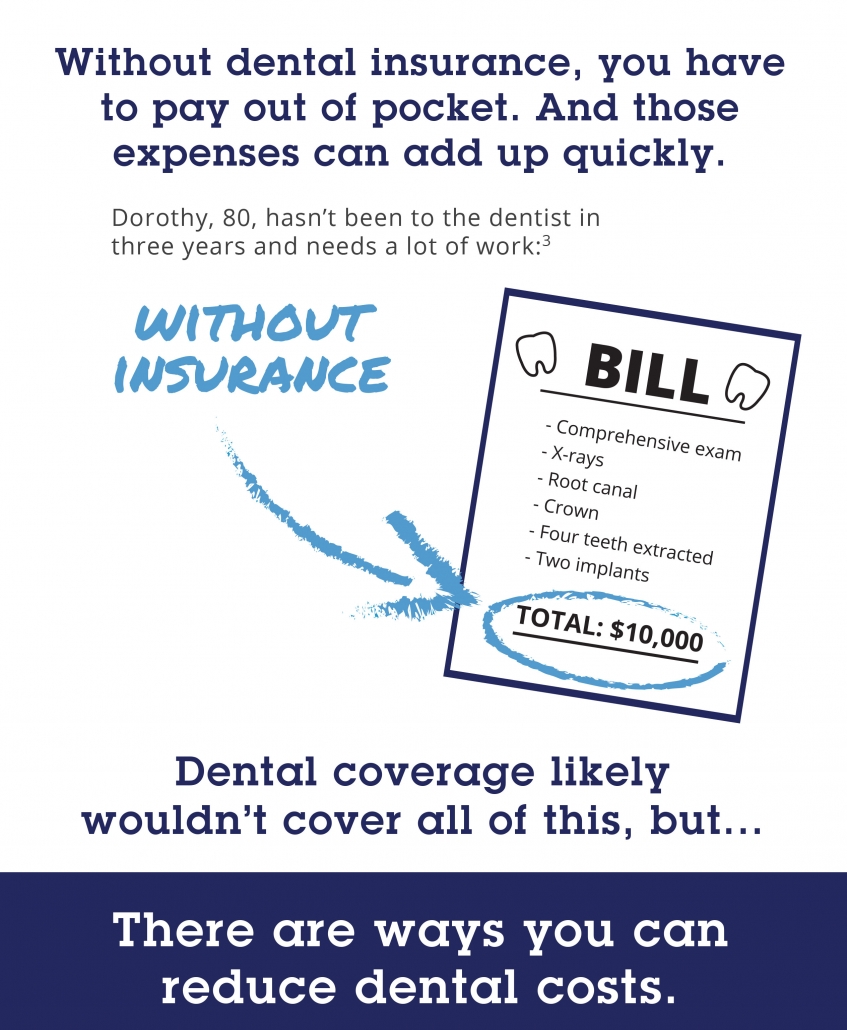 Our team is made up of compassionate, friendly individuals who understand the unique needs of older adults. We take the time to listen to your concerns and provide personalized solutions that work for you. We provide additional and detailed information on Medicare Health Plans and a no-cost plan comparison to determine if you qualify for additional benefits.